DJ DIE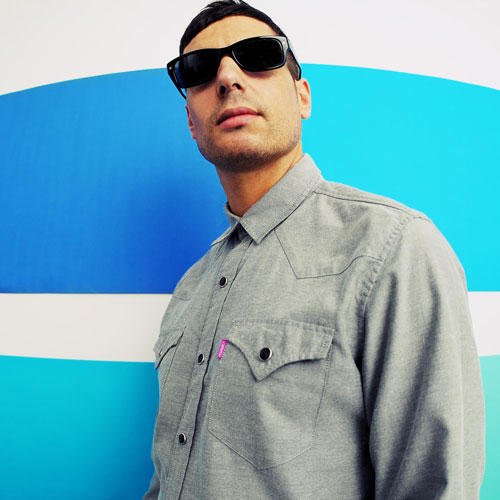 The city of Bristol and its contribution to British dance music over the last 20 years should need little introduction. From the early days of rave, through jungle and drum & bass, to dubstep and now house music, the sleepy West Country city's reputation as a hotbed of musical talent and innovation has never diminished.

Bristol's distinction as a global epicentre for dance and bass music culture is, of course, down to the incredible list of producers, DJs and musical visionaries that call the city home. Whether born-and-bred locals, or culture craving migrants, Bristol's reputation acts as a beacon for the talent of the world.

Among those who laid the foundations for all of this, who first grabbed the attentions of the world and who indelibly stamped the 'Bristol Sound' on the history of music forever, is a man who himself arrived in Bristol from Devon back in 1985 and went on to become one of the city's most cherished musical sons - and one of the jungle and drum & bass movement's biggest stars.

That man is DJ Die, a man whose passion, enthusiasm and relentless energy remains unbridled after over 20 years in the game. Still regularly touring the world and now running two record labels of his own, Die's skills as a DJ and producer are as in demand as ever, thanks not just to his legendary status as a D&B don, but also to his unwavering love of what he does.

That love began for Die back in the 1980s when he found himself frequenting the pre-rave parties of his adopted city and soaking up the sounds played by Wild Bunch and later DJ Krust and The Fresh Four, with whom he'd eventually join forces. By 1992, Die had linked up with friend Jody Wisternoff (of Way Out West fame) and begun his path as a producer. Initial house and hardcore releases as Tru-Funk, and then later under the name Sub Love, saw Die playing iconic raves such as Universe and offered a first taste of what would become his lifetime career.

Around this same time, a chance meeting with Roni Size began a relationship that kicked off with the seminal 'Agility' for legendary jungle imprint V Recordings in 1993, and eventually culminated four years later with the career defining achievement of winning the Mercury Music Prize as Reprazent. In the interim, under the Scorpio moniker, Die and Roni turned out countless jungle/D&B classics, and between them forged the 'Music Box' project that laid the foundations of Full Cycle - the Bristol based label that dominated drum & bass for the second half of the 1990s, and of which Die, along with Roni, Krust and Suv, was a integral player.

Innovative approaches to the D&B template, such as 'Jitta Bug', 'Drop Bear' and, of course, 'Clear Skyz' for Full Cycle (and 'Slide Away', 'Special Treat' and 'Autumn' for V Recordings) carried Die through the final years of the last millennium, while his Breakbeat Era project, again with Roni and vocalist Leonie Laws, was snapped up by XL Recordings, and Die busied himself remixing the likes of DJ Shadow and Pharoahe Monch and collaborating with Method Man, Rahzel and Rage Against The Machine's Zac De La Rocha on the second Reprazent album.

Never resting, 2003 saw Die join forces with Full Cycle / V stablemate DJ Krust for the I-Kamanchi project, culminating in an album of the same name. Two years later, and Die's name was back in the record racks (and by now, download stores) as he nurtured and eventually collaborated with a new Bristolian D&B talent - a young producer by the name of Clipz. The 'Cross Collaborations' LP saw the master and apprentice combine with stunning results, and brought Die's name firmly back to D&B's top table. 'Black Doves', 'Good Old Days' and the Ben Westbeech featuring 'Number One' demonstrated Die's rolling style perfectly and provided a launch-pad for the young Clipz, who would go on to become one of dance music's biggest stars as Redlight.

In 2007, Die stepped aside from Full Cycle and decided to run on his own. Taking the name of one his biggest tracks, 1999's 'Clear Skyz', Die launched his own label as a platform for both his own productions and that of the bubbling fresh talent around him in Bristol and the wider D&B world. Break, Interface, Need For Mirrors and S.P.Y have all contributed to the label, which continues to fire on all cylinders as one of the few remaining quality D&B imprints.

With a career that started way before the genre even had its name, Die has always been much more than just a D&B DJ and producer, as his 80s-boogie celebrating Laminate Radio project with Gus Pirelli and the recent launch of the multi-genre Gutterfunk label deftly prove. Following initial releases from the likes of Mensah, First Aid, Interface and Die himself, the label is readying itself to step up for the year ahead. With a whole host of exciting producers and releases (including the tantalising prospect of the debut release from Die's Sure Thing disco/boogie project, featuring Futureboogie's Christophe and dubstep supremo Joker on keys) lined up, and with a man like Die and all the energy that comes with him behind it, expect the Gutterfunk name to be on everyone's lips in 2013, just as DJ Die's has for the last 20 years.