Jumpin Jack Frost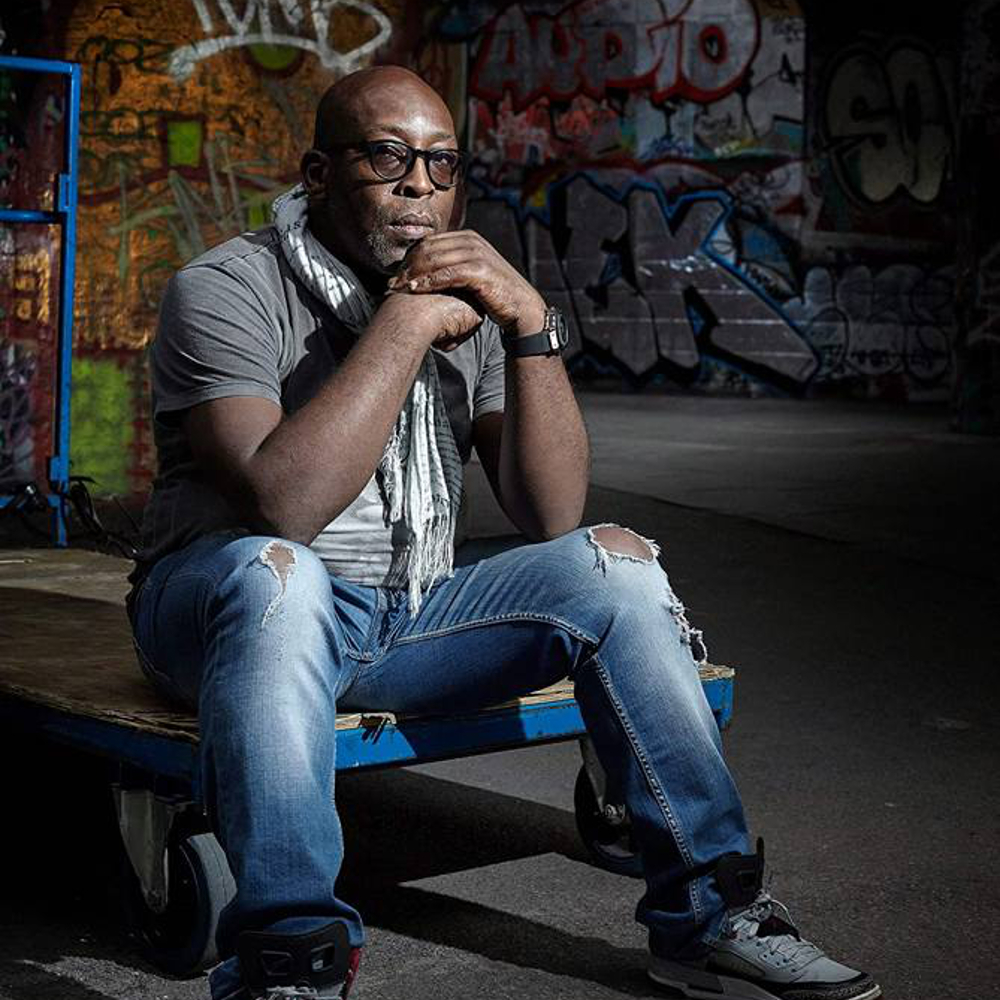 Drum & bass music wouldn't be what it is without Jumpin Jack Frost.
Brixton born and bred, his childhood was soundtracked by the soul, funk, reggae, and foundation hip-hop that would, a couple of decades later, become the building blocks of jungle music. This was the seventies and eighties, the era that saw the rise of the soundsystem in the UK, and the young Frost paid his dues as a box boy for the local Frontline sound, eventually graduating to mic man.
But, as history shows, his true calling lay behind the decks. In his autobiography, "Big Bad and Heavy", he recalls working briefly in removals and, for no apparent reason, being given three thousand unwanted records. This proved to be a moment that would shape his career. Highly knowledgeable and passionate about the music, in 1987, Jumpin Jack Frost the deejay came into existence.
Of course, it wouldn't be long before a whole new music scene would arise. Rave culture was born, and Frost was right there from the beginning.
Moving away from the reggae and funk he was then known for playing, he became immersed in the nascent acid house scene. Alongside the likes of Fabio, Grooverider, and Bryan Gee, he was a founding resident of the now-legendary Carwash raves. And, as the music and culture exploded across the UK, he quickly became an in-demand headliner. Joining the influential Dynamix agency was the next step up, turning him into an international touring deejay for the first time.
Then, in 1993, as jungle music was taking over, Frost secured his place in the history of UK music forever. First, he teamed up with fellow Carwash alumnus Bryan Gee to form the seminal label V Recordings. Then, under the name Leviticus, he produced one of the biggest jungle anthems that's ever been, "Burial". Nominated for a MOBO award, and having sold over a hundred thousand copies to date, it's a tune that's known all over the world.
Frost and Bryan Gee took V Recordings from strength to strength. They were the first to turn the spotlight on the Bristol sound, signing Roni Size, Krust, Die, and Suv, who would eventually form Full Cycle and the Mercury-winning Reprazent. Luminaries like Dillinja, Ray Keith, Ed Rush & Optical, and Adam F all had early releases on V. The A&R skills were second to none, and compilations like "V Classic" and "Planet V" gave the label, and its owners, heavyweight status not only in the UK but also in the USA, which became almost a second home for Frost.
Jumpin Jack Frost is now known globally for his high-energy, often scratch-laden deejay sets and an unrivalled ear for what's popping. His award-winning Kiss FM radio show was essential listening for D&B heads during his five-year tenure, a trend which he's continued into the present day with his current show on Mi-Soul Radio.
As a respected tastemaker and ambassador for drum 'n' bass, he's been instrumental in introducing the scene to many huge artists. The Brazilian dons Marky, Patife, and their contemporaries are just a couple of examples. He's a deejay, producer, official remixer for the likes of Jamiroquai and Drizabone, and runs his own clothing brand, Team Frost.
In 2017 he added author to that already rammed CV when he published his autobiography. "Big Bad and Heavy" gives a brutally honest account of his upbringing and life in and out of music. Both inspirational and, at times, savage, it's an unique telling of a unique story. And while the book may be finished, there are many more chapters of the Jumpin Jack Frost story still to come