DILLINJA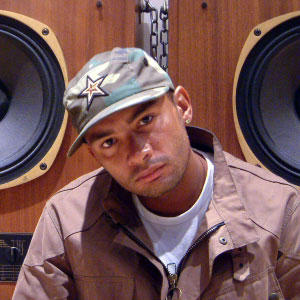 There are few producers on the drum'n'bass scene who are as respected and revered as Dillinja. With his trademark combination of dirty stomach-churning basslines and tighter than tight beats, his reputation has been secured as one of the most influential producers in drum'n'bass history, as well as one of the scene's most called-upon remixers, having worked with everyone from David Bowie to Bjork and Basement Jaxx. A true connoisseur of sound, Dillinja's mighty 96k Valve Sound System is recognised the world over.

Dillinja was reared on a musical diet of funk, jazz, reggae and rare groove, genres which proved to influence him enormously, but it was the 1980s hip hop and electro explosion which really captured his heart. His hunger for hip-hop was well satisfied in South London, as local parks hosted free events where hip-hop, soul, rare groove and reggae could be consumed in vast quantities. The influence of these events on Dillinja, where the likes of King Tubby's Hi Fi and Jah Shaka made their presence felt with their mighty earth-shaking reggae sound systems, was huge.

Dillinja began to shadow a local guy who had made Jah Shaka's amps, and not long after, at the age of fifteen, he was making his own custom built amps and bass bins; a hobby that soon became obsession, with his teenage bedroom so full of audio equipment, he had no choice but to put his mattress atop the speaker cabinets and sleep there. However, when the infamous Criminal Justice Bill was introduced, seriously clamping down on sound systems and the events where they were played. Dillinja decided that rather than compromising his system, he would call it a day, sell of its components, and enter the heady world of music production.

With musical experience gained at school playing both the drums and violin, Dillinja easily picked up the required skills, hanging around the Digidub Studios in Camberwell to get a feel for the engineering side of the process. He began to furiously produce tracks, so many at one point that he was putting out two releases a week, plunging any money earned straight back into the kitty for mastering and pressing costs, as well as bus and train fares for self-distribution to all the specialist records stores. Dillinja: "I wasn't making any money for years, I just had such a love for the music. I was knocking tunes together in my room, getting a hundred white labels pressed and running around with them to record shops myself. It was a great learning process and I loved it". It is an often cited fact that by the age of 23, Dillinja already had 50 releases under his belt.

His initial records were all on white label, including his first ever release 'Tear Off Your Chest', produced with Batmix, but within a couple of years he went on to form a myriad of labels such as Cybotron, Logic, Target, IQ and Deadly Vinyl, the latter being home to such Dillinja early classics as 'Sovereign Melody' and 'Deadly Deep Subs'.

As well as his own label, Dillinja went on to record for many other drum'n'bass labels, including Bryan Gee and Jumpin' Jack Frost's V Recordings and Philly Blunt labels, Hardleaders, Prototype and Goldie's pioneering Metalheadz imprint. Dillinja used these labels to show his unique musical versatility; while labels such as Philly Blunt and Lionheart Records showcased some of Dillinja's more raw jungle based sounds, as in 'Muthafucka' and the reggae-fuelled basslines of 'Lionheart' (produced with Bert), his seminal 1994 Blade Runner-sampling release 'The Angels Fell' was at the helm of the new wave of drum'n'bass encapsulated in the cutting edge Metalheadz sound. It is this fusion of dark basslines and tightly produced beats that has become Dillinja's trademark sound today, a sound that has resulted in Dillinja being called to remix for the likes of David Bowie, Bjork, Faith No More, Soul II Soul, Basement Jaxx, Amon Tobin, Artful Dodger and Jeru the Damaja. The various aliases under which he has recorded include Trinity, Capone, Cybotron and The Specialist.

Dillinja's introduction to Kevin King aka Lemon D in the mid 1990s through a mutual friend resulted in a partnership which soon gave birth to Valve Recordings in 1997, so named after the old Shaka pre-amps used in reggae sound systems. Starting as it meant to go on, the label's first release was Dillinja's brutal 'Violent Killa', backed with Lemon D's '12.01'. Test Recordings was set up as a subsidiary label at around the same period � a more anonymous, dancefloor-based label. In between these various releases on his Valve labels, Dillinja signed an album deal with London Records in 2000, a move that resulted in the production of the classic 'Cybotron' LP in 2001, an album highly acclaimed by the dance music establishment which cemented Dillinja's position as one of the true leaders in his field.

Nowhere has this been more apparent than with the Valve Sound System. Fed up with playing on second rate club sound systems which they felt didn't do their tracks justice, Dillinja, utilising his vast knowledge and experience in the field, decided, with Lemon D, to build his own system � the Valve Sound System � the world's first sound system designed and built specifically for drum'n'bass and its frequencies of deep bass which were all too often ignored by most club systems. The mighty 96k Valve Sound System made its mind blowing club debut at London's Fabric nightclub in May 2001, and since then it has extensively toured the UK, with plans for the system to be taken overseas in the near future.