V Podcast 127 - Hosted by Bryan Gee (RIP MC Skibadee)A brand new look.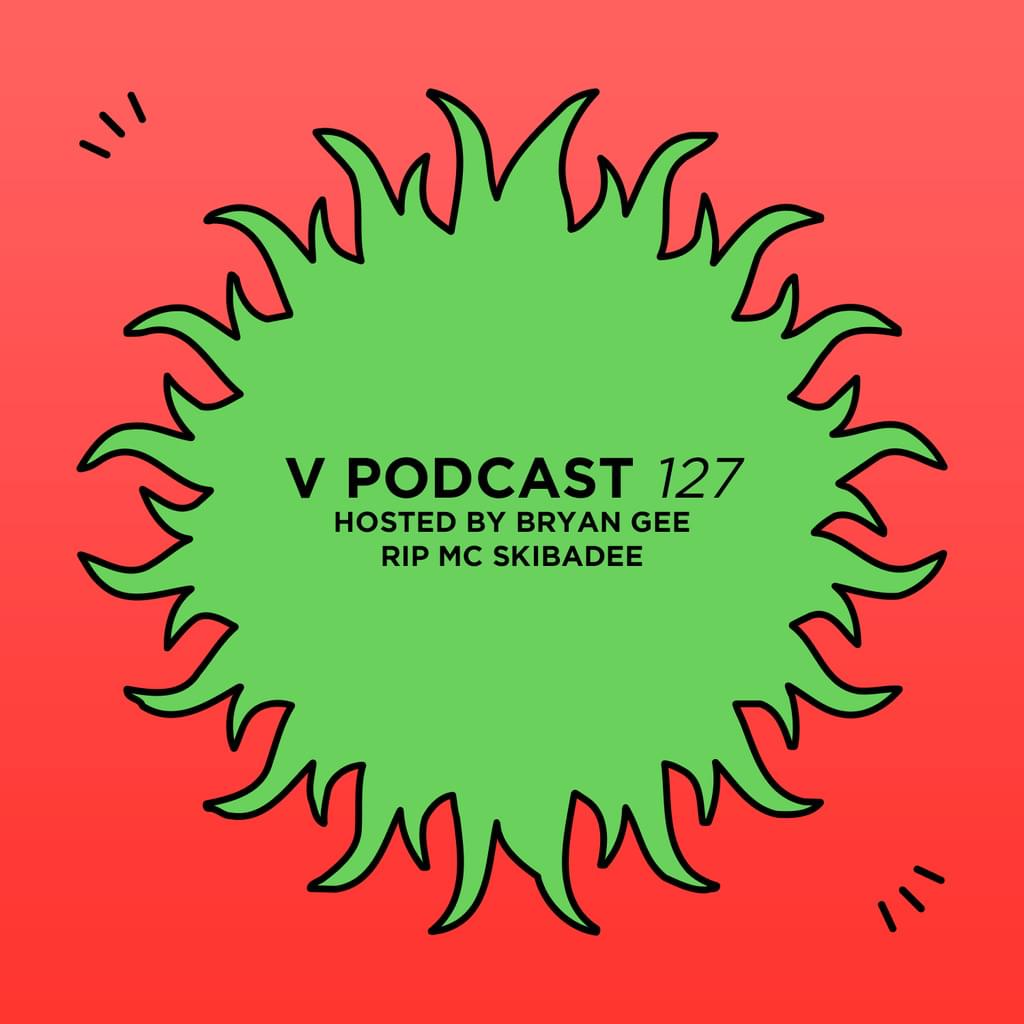 iTunes | Soundcloud | Mixcloud | YouTube
Presenting a brand new look for the V Podcast. The first instalment of this new chapter is dedicated to MC Skibadee. Bryan shows off brand new music from Planet V and beyond, including the likes of The Sauce, Sl8r, Level 2, Watch The Ride and many more.
As always you can email your thoughts or shoutouts to podcast@vrecordings.com
01. Simplification - Forever ft. Blak (Villem Remix)
02. Stimulator Jones - Good Never Comes (Bluemode Edit)
03. Zero T & Onj - Rodeo Drive feat. Mercey's Cartel
04. Bluemode - Busting Out
05. Paul T and Edward Oberon - Music Got Soul ft. Cleaveland Watkiss (Bailey Vip)
06. Simple Souls - Day and Night
07. Syren Rivers, Illmatika and Skuff - You
08. Sl8r - Surplus ft. Fats and T.R.A.C.
09. Velocity and Singing Fats - Hide and Seek 2022 VIP
10. Carlito - Sing It Now
11. Carlito - Untitled
12. Unkoded - Real
13. Unkoded - Bubble and Squeak
14. DJ Marky and Sl8r - Untitled
15. L-Side and Salo - Day Dreaming ft. Mc Moose
16. Wizzkid - Essence (Chimpo Edit)
17. Chimpo X Inqus - Mix It Up
18. Zero T & on J - Some Type of Way ft. Terell King
19. Zero T & on J - We Juggle Different ft. Terell King
20. Velocity - Do You See What I See
21. Break and Total Science - Blame You
22. Level 2 - Hot Foot
23. Level 2 - Robot Funk
24. Brook - Fightless
25. Command Strange - Krusty Fingers
26. Mc Fava and Alibi - Mr Junglist Man ft. Singing Fats
27. Alibi - Moores Law
28. Alibi - Another Being
29. L-Side and Dunk - Robot
30. Hazard - Wrong Number
31. Gardna, Spyda and Selecta L Man - Disturb Them
32. Watch The Ride and Emz - Ready 4 Dem
33. Mr Williams - Sound Boy Killa (Shy Fx Remix)
34. Roni Size - Dance (MC Skibadee Intro)
35. Roni Size - No Pictures ft. MC Skibadee
36. Twisted Individual - Top of the World ft. MC Skibadee
37. Benny Page - Ride ft. MC Skibadee and Shabba
38. Twisted Individual - Throbbing Gristle ft. MC Skibadee
39. MC Skibadee and Critical Impact - Creeper VIP
40. Critical Impact - Murky ft. MC Skibadee and Mad Rush
41. Shy Fx and T Power ft. Di - Dont Wanna Know (MC Skibadee Intro)
42. Dillinja - Twist Em Out ft. MC Skibadee
43. L-Side and TI - Be You
44. Moonlight (Break Remix)
45. A-Audio - Find My Way
46. A-Audio - Cant Fake It
47. L-Side - Dub Dogs ft. MC Moose
48. Simplification - Back in the Game (Ill Truth Remix)
V Recordings:
Website: https://www.vrecordings.com
Facebook: https://www.facebook.com/vrecordings
Instagram: https://www.instagram.com/planet_v_
Twitter: https://twitter.com/v_recordings
Soundcloud: https://soundcloud.com/vrecordings
Mixcloud: https://www.mixcloud.com/v_recordings
YouTube: https://www.youtube.com/planetvtv