---
Mr Joseph - Inner Haze [CD]
LV059CD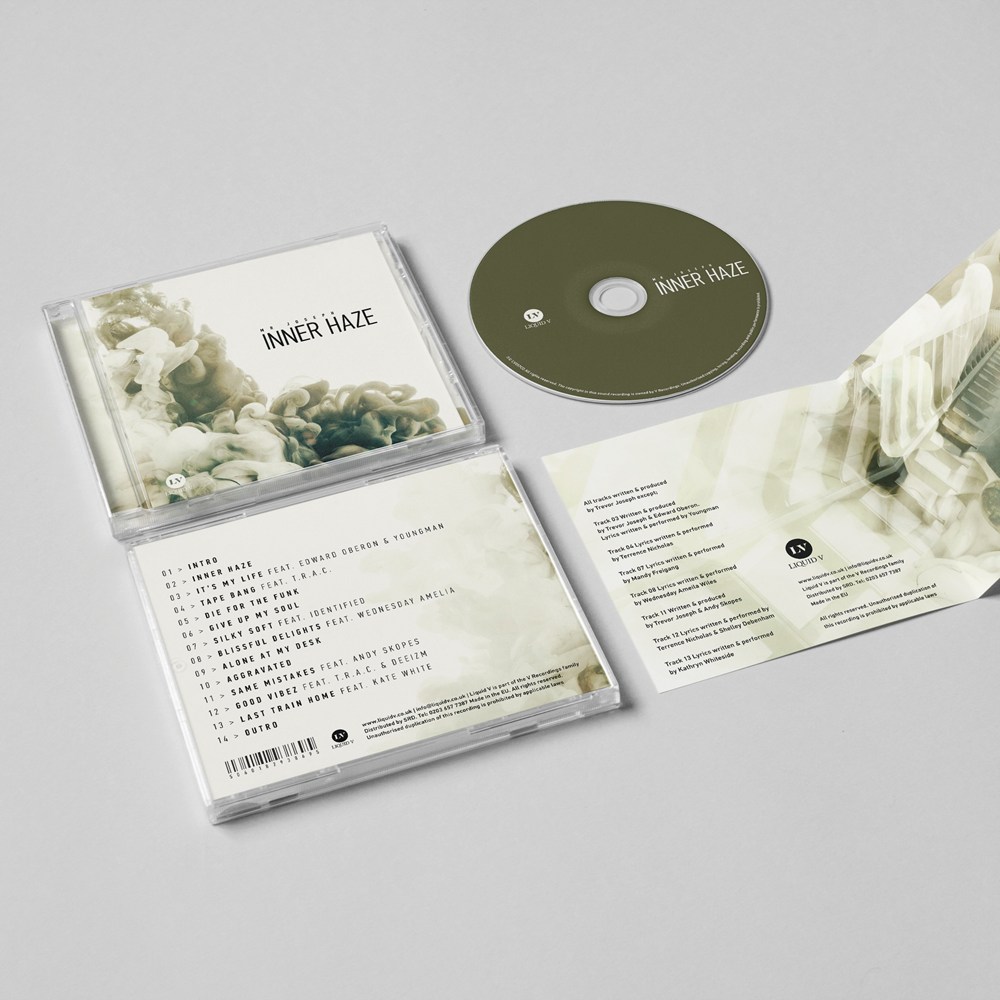 cd

£4.00

£7.99 50% discount
MP3 release
25% discount

£6.00

FLAC release
25% discount

£6.75

WAV release
25% discount

£7.50
---
CD tracklist
CD1 1. Mr Joseph - Intro
CD1 2. Mr Joseph - Inner Haze
CD1 3. Mr Joseph & Edward Oberon - It's My Life feat. Youngman
CD1 4. Mr Joseph - Tape Bang feat. T.R.A.C.
CD1 5. Mr Joseph - Die For The Funk
CD1 6. Mr Joseph - Give Up My Soul
CD1 7. Mr Joseph - Silky Soft feat. Identified
CD1 8. Mr Joseph - Blissful Delights feat. Wednesday Amelia
CD1 9. Mr Joseph - Alone At My Desk
CD1 10. Mr Joseph - Aggravated
CD1 11. Mr Joseph & Andy Skopes - Same Mistakes
CD1 12. Mr Joseph - Good Vibez feat. T.R.A.C. and Deeizm
CD1 13. Mr Joseph - Last Train Home feat. Kate White
CD1 14. Mr Joseph - Outro
As a custodian of the authentic Liquid D&B sound, Mr Joseph's debut album strikes a delicate balance between funk-filled, soulful rollers and deep brooding basslines. The result is an album packed full of different musical textures which, combine seamlessly to create an immersive listening experience.
This is the debut album from Mr Joseph on Liquid V — only the second full artist album ever on the label!
An album that cuts through the dancefloor with ease, but which has enough subtlety and depth for home listening this is a project that will stand up to repeated listens, however don't be fooled, this is not just a solo affair, Mr Joseph has also collaborated with a host of amazing vocalists and producers to create this debut album. Step forward Youngman, Edward Oberon, T.R.A.C., Deeizm, Kate White, Wednesday Amelia, Identified and Andy Skopes - it's a real family affair.
---